Sunday Stock Report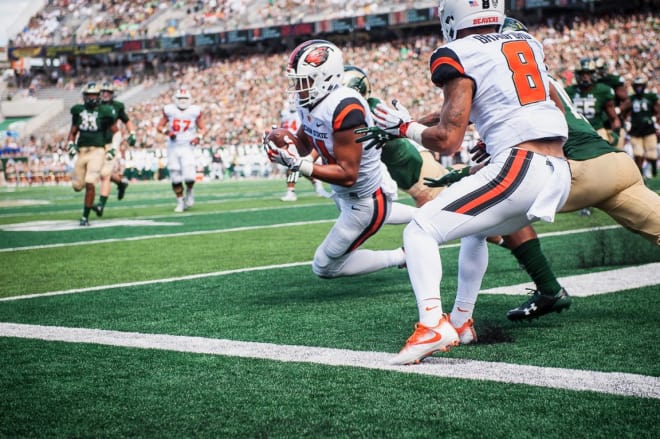 Stock Up
Wide receiver Jordan Villamin
After just one game, Villamin has caught a third of the amount of passes he caught in 2016. Yes, Villamin caught just21 passes a season ago, and he looked sharp on Saturday catching seven passes for 77 yards. He did not drop any passes and was a very good target for Luton in the short-to-intermediate passing game. Look for Villamin to play a bigger role in the Beavs' vertical passing offense moving forward when Seth Collins returns to the offense as he will demand more attention from defenses.
Tight end Noah Togiai
We'd like to think that Togiai caught two touchdown passes, but he was only credited for one. Watch the video in the tweet below for a replay of Togiai's reception at the end of the first half that would have given the Beavers big momentum going in the locker room. Even without Togiai being credited for that touchdown, he still had a nice performance - catching seven passes for 67 yards and a touchdown. There were two big mistakes by Togiai when he fumbled the ball away and had a drop with no one anywhere near him - both coming in the second half.
Defensive end Titus Failauga
We really thought about who impressed us on the defensive side of the ball, and Failauga is our choice. He's had his position changed over the years, but he seems to be settled in at defensive end and played well. Failauga made one of the better plays of the game for the Beavs' defense when he shed the block of CSU's right tackle with his quick hands and laid a big hit on the Rams' running back for a loss of four yards. Failauga came out of the game with cramps but re-entered and should be fine moving forward.
Stock Down
Defensive front seven
Colorado State really had no problem moving the ball all day long. Other than Gallup's 48 yard catch, the Beavers didn't really give up many big plays, but the Rams were able to consistently march down the field with ease. Colorado State scored on their last eight possessions of the game (discounting the muffed punt that Andre Bodden recovered, because that wasn't really a drive). Eight. The front seven has to get more pressure on the opposing quarterback. I thought Andrzej Hughes-Murray had some good moments, and when he crushed Nick Stevens, Kyle White was able to make a big play for an interception. But Oregon State was not able to get pressure often as they did not account for a single sack, and the Beavers made just two tackles in the backfield.
Running back Thomas Tyner
He's not on this list because he didn't play well, but his sample size was so small against Colorado State. He had just four carries for 10 yards with a long of seven yards on one run. We thought that Tyner would be showcased much more in this game, and maybe he would have received more carries if it was a closer game, but we hoped to see Tyner much more. His stock is down this week because of how much the coaches played him, not because we don't think he's an exceptional talent.
PROMO: Get BeaversEdge.com access FREE for 30 days
Inside linebacker Manase Hungalu
The senior leader was not very sharp against the Rams. Hungalu is an absolute beast and will have much better games this season, but on Saturday, it was tough sledding for him. He finished the game with three solo tackles and two assisted tackles. The most notable play of the game for him was one to forget as the Beavers had CSU in a fourth down situation, and the less than nimble Nick Stevens alluded Hungalu and ran for a first down to continue the drive.
Stock Neutral
Quarterback Jake Luton
Luton did things throwing the ball that Oregon State fans simply haven't seen much of in the Gary Andersen era. His pass in the video below to Togiai was a dime, and I was also impressed with Luton's pocket presence at times as well, (see the first video above) but then there the bad plays - such as the interception returned for a touchdown. A corner blitz came off Luton's left side, and instead of evading the much smaller defender, Luton threw off his back foot, the pass was tipped, and the rest is history. Luton had his good moments and had his bad moments. After a 27-of-47 for 304 yards, two touchdowns, and three interceptions performance, the gunslinging Jake Luton's stock is neutral.
Offensive line
I actually don't think that the Rams stacked the box extremely heavy to stop the run. There were manageable sets for the OSU offensive line to block, but they were not getting the job done in the run game. Nall's 75 yard touchdown was an absolute beauty and was executed to perfection by all 11 guys on the field. While the run blocking left more to be desired, I thought the pass blocking was pretty impressive. For the most part, Luton had very clean pockets to allow him to throw the ball down the field.