INSTANT ANALYSIS: Beavers blown out in season opener
Oregon State went into halftime trailing 27-20, which was more than a manageable score to come back from, but the Beavers came out in the second half flat on their way to 58-27 loss.
Check out our initial reaction from the loss below.
RELATED
React with fellow Beaver fans to the loss
Opening thoughts
Offensively, I thought the Beavs did decent. It wasn't a great performance, but it wasn't bad either. There were definitely things to like.
The offensive line had some really bright moments in their pass protection. Jake Luton had all day to throw at times, and when he had a clean pocket, he was torching the Rams down the field.
The run game was good at times, but Nall and company were hit in the backfield a lot. The offensive line struggled much more in run blocking compared to pass blocking.
Defensively, it was a very poor day. They allowed 525 yards and were dominated in time of possession. Oregon State shot themselves in the feet with several key errors, which were not limited to the five turnovers.
All in all, it's a bad loss, but I don't think this is time to jump ship on Oregon State's collision course with reaching six wins. Colorado State is a very good football team, could be the best in the Mountain West conference, and might be a New Year's Six team if they can run their way through the conference.
Oregon State (and their fans) need to get past this and focus on beating Portland State.
Nine Beavers catch passes, Villamin and Togiai lead the way
This was a very good thing to see for the Beavers. Luton spread the ball around with Villmain, Togiai, Hernandez, Bradford, Hodgins, Nall, Johnson, Hawkins, and Wily-Matagi catching passes.
Luton looked very comfortable connecting with his receivers on shallow crossing routes early, and he had obvious chemistry with Jordan Villamin on short-to-immediate routes. Villamin led the Beavers in receptions (tied with Noah Togiai) with seven and yards with 77. Off the top of my head, Villamin didn't lead a single game last season in receptions, but probably led the team in receiving yards against Arizona.
Our reports out of fall camp were that Luton had a good connection with Villamin and especially Togiai, who looked really good on the day, but his drop late in the game when he had no one near him is head scratching. Togiai caught seven passes for 67 yards and a score.
The game's opening touchdown came via a wide open Timmy Hernandez for a 39-yard score. That was the longest play through the air for OSU, and it was welcoming to see that Togiai had a 25 yard catch (a touchdown reception), Bradford had an incredible 34 yard catch that set OSU up for a field goal, Villamin had a 17 yard catch, and even Trevorris Johnson had a 16 yard catch and run.
Thoughts on Jake Luton
Luton's performance was pretty much what I thought it would be, but I didn't think he would throw three interceptions. He finished 27-of-47 for 304 yards, two touchdowns, and the INT's.
Oregon State had just one game last year with a passer throwing over 300 yards (McMaryion, 327 vs Washington State) and the Beavs now have that after game one. The Beavers went with the short passing game early and often, and I thought it suited Luton well. OSU looked like a well oiled machine on offense at times.
I've seen some harsh criticism of Luton based on his first performance, but I don't think it's fair. I saw more good than bad with Luton's play, but he needs to work on his touch on the deep ball as he overthrew a couple of his receivers, most notably on an early pass to Hodgins that could have been a touchdown, and he has to take care of the football.
Oregon State has much more variety in their offense now with Luton at quarterback, and I am confident that it will only get better from here.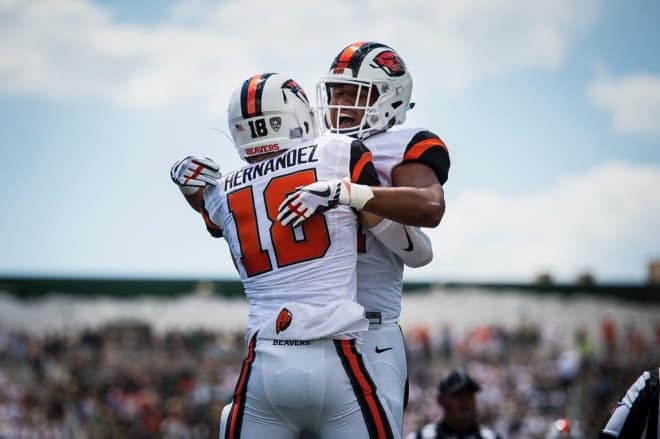 Missed Opportunities
After Trevon Bradford's incredible catch that set OSU up in the red zone, the Beavers had the chance to go into the half with a big touchdown to tie the game up at 24 a piece heading into halftime.
It looked like the Beavers had a touchdown, but the officials ruled that Noah Togiai bobbled a pass that appeared to be caught. It was definitely a questionable call that didn't favor Oregon State.
To start the third quarter, Colorado State marched right down the field, but OSU had the chance to make a big momentum changing play when CSU quarterback Nick Stevens flicked the ball to his receiver. Brandon Arnold got his hands on the pass but dropped it. CSU was able to get three points on the board when OSU could've had the ball going back the other way.
Oregon State shot themselves in the foot again when Bradford was blown up on a jet sweep. And of course, there were Luton's three interceptions, and one was returned for a touchdown.
Inside linebacker Manase Hungalu had a chance to make a big hit on Stevens on a fourth down quarterback keeper, but he whiffed, and the Rams continued the drive.
Don't get me wrong, Colorado State was simply the better team on Saturday, but there were a few small plays that could've changed the tune of the game.
Oregon State was consistently gashed
The defense was bad. I liked what I was from inside linebacker Andrzej Hughes-Murray early in the game, and he made a highlight play when he crushed Stevens on a pass that was intercepted by Kyle White. Defensive end Titus Failauga also had a nice day before he suffered leg cramps. He re-entered the game but didn't make much of an impact after that.
Hungalu had a rough day and finished with just five total tackles. The leading tacklers for Oregon State were Jalen Moore (9), and then Brandon Arnold, Xavier Crawford, and Andrzej Hughes-Murray tied with seven a piece. Having three of your four top tacklers being defensive backs is not typically a good sign.
Oregon State was getting pressure to Stevens, but they did not sack him once, and the Beavs only had two tackles for loss.
Up and down day for the offensive line
Like I said earlier, the O-line was actually pretty good in giving Luton time to find his receivers downfield, but the run blocking was not good.
Nall's 75 yard touchdown run was an exceptional display of blocking though. Fred Lauina and Togiai had key blocks to get Nall to the second level, and Hodgins' downfield block allowed Nall to find his way into the end zone.
Looking at the box score, Oregon State ran for 164 yards on 29 carries, which averages to 5.2 yards per carry, but if you take out the Nall touchdown run, the Beavs had 89 yards on 28 carries, averaging to 3.2 yards per carry.
After what I saw from the offensive line in the opener last year against Minnesota, this group is already ahead of where they were last year. This group will get better.
Thought we'd see more of Tyner
Tyner had just four carries for eight yards. I thought that he'd receive carries for Artavis Pierce, but Pierce was the guy that the OSU staff went to after Nall and received eight carries.
I am puzzled with the identity of the offense right now. What is the direction? Is it an air raid? Luton did throw the ball 19 times in the first quarter - that was very surprising.
Oregon State used an up-tempo approach in the first half and were throwing the ball, but when they went to the run game, it didn't seem to flow very well between mixing up the run and pass.
To put it simply, it's like McGiven thought to himself, "Oh crap, I forgot that we should run the ball too." And then the Beavs would start to slow down and run the rock, which wasn't effective.