Oregon State Women's Basketball Outlook
Want to get the inside scoop on Oregon State athletics? Subscribe to BeaversEdge.com today!
After losing to the Florida State Seminoles in the Sweet Sixteen of the NCAA Tournament, the Oregon State women's basketball team will now turn their attention to the future. The Beavers will have the challenge of replacing three starters on a team that went 31-5 and won their third consecutive regular season Pac-12 title. Will the incoming recruiting class and this year's role players be able to fill the void left by OSU's departing seniors? BeaversEdge.com breaks it down.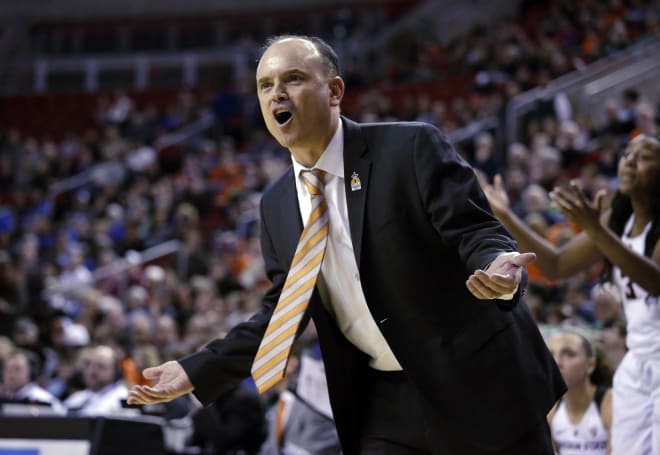 Who's Gone?
Sydney Wiese, PG: Wiese will leave OSU as arguably the best to ever play the position in Corvallis. Wiese is the Pac-12's career record holder for 3-point makes, and her name will forever be engraved in the program. The Beavers aren't just losing a tremendous leader, they are losing a player who will be in the rafters of Gill Coliseum one day.
Gabby Hanson, G: Losing Hanson isn't something you think could change your program drastically, given that her scoring output was inconsistent, but her on-ball defense was the best the Pac-12 had offer. For four years, Hanson was usually charged with guarding the opponent's best player, and she did it exceptionally. Whether it was Kelsey Plum, Jordin Canada, or Sabrina Ionescu, Hanson's lock down defense showed up everyday and her energy on that side of the floor willed the Beavers to victory.
Kolbie Orum, F: Like a fine wine, Orum got better as the season went along. She was the best player against Florida State, and gave the Beavers a nice boost off the bench against FSU and many times during the season. Orum's leadership, nifty footwork, and smooth fadeaway jump shot complemented Marie Gülich and Breanna Brown's post ability.
***Breanna Brown, F: The curious case of Breanna Brown. Brown is a redshirt junior who has been transparent about exploring her options for her final year of eligibility. Brown was a nice addition to the Beaver's front line this season after Ruth Hamblin, Sam Siegner and Deven Hunter graduated last year. She provided a nice scoring punch after she was inserted into the starting lineup, and was one of the vocal leaders on the team that always brought emotion to the hardwood. If she were return to the Beavers for one more season, Brown would immediately keep the Beavers in contention for another Pac-12 title given her defensive prowess.
Why subscribe to BeaversEdge.com? Let like-minded Oregon State fans answer that question.
Who's Coming Back?
Marie Gülich, (SR) C: Gülich will be the Beavers lone senior next season if Brown decides not to return for her last year. Her inside game is her strength, and her midrange jumpshot can stretch out a defense when she is able to knock them down consistently. If she is going to be an elite center in the Pac-12 she is going to have knock them down consistently.
Katie McWilliams, (JR) G: McWilliams returns as one of the role players off the bench that could be in a position to start. McWilliams has shown flashes of being great player, especially her freshman year when Wiese was sidelined with an injury and she had to take over the point guard duties. But perhaps most impressively, McWilliams 6-foot-2 frame provides excellent defense, that can guard four positions. Next year, the Beavers will need her to score with consistency in order to replace the void left by Wiese.
Taylor Kalmer, (JR) G: Kalmer struggled to crack the rotation with much consistency this season mostly because of inconsistent play on the defensive side. However, Kalmer is one of the best "pure" shooters on the team, and has the offensive ability to light up the scoreboard. Look for Kalmer to be one of the first people off the bench next season as the Beavers will need an established veteran to come off the bench.
Mikayla Pivec, (SO) G: Pivec's ability to grow from year one to year two might be the kingpin to OSU's season next year. She showed flashes of greatness with driving ability, ball-handling, defense, and 3-point shooting. However, there were times where she wasn't aggressive enough and deferred to her teammates. If Pivec can make strides in the offseason, I could see her being one of the scoring/assist/rebound leaders on this team next season as a sophomore. Her ceiling is that high.
Kat Tudor, (SO) G: Tudor was a key role player early in the season with the Beavers, being utilized exclusively as a 3-point specialist. However, as the season wore on, Tudor's shot faded, and she didn't make a three point shot in the postseason. Next season, the Beavers will be counting on her to consistently provide offense for a team that will desperately need it.
Madison Washington, (SO) G: Washington didn't see much of the court this season, due to a very crowded backcourt. With Wiese and Hanson graduating, Washington will be trying to crack the rotation next season. I like her potential on the defensive end. Like McWilliams she possesses nice size on the defensive end and can guard multiple positions.
Janessa Thropay, (SO) F: Another player that struggled to find minutes this season was Thropay. She did have some playing time early this season but did not score. I haven't seen enough on her to make a ton of predictions for next season.
Who's Coming In?
Aleah Goodman, 5-9 G, La Salle, Oregon: Goodman continues the "Oregon pipeline" so to speak. She will bring the Beavers a ball handling presence like Sydney Wiese and a deadly three point shot. Goodman led La Salle to state championships in her sophomore and senior seasons. Look for Goodman to be an immediate contributor.
Taya Corosdale, 6-3 F, Bothell, Washington: Corosdale is the highest recruit the Beavers are bringing in this season. She is ranked as the No. 27 player in the nation, earning her a five star rating. Corosdale could also be an immediate contributor if Breanna Brown does not return for her senior season. She also provides the ability to stretch the floor and hit mid range jumpers.
Joanna Grymek, 6-8 C, Krakow, Poland: Grymek comes in as a junior, after playing two seasons at Seward County Community College in Liberal, Kansas. The most intriguing thing about Grymek is her size. She would be the tallest player the Beavers have had since the 6-6 Ruth Hamblin, and in women's basketball, players who are 6-8 don't come around everyday. Given Grymek's frame, I see her starting immediately and giving the Beavers a height advantage in the Pac-12 that very few teams will be able to match.
Projected 2017-18 Starting Five
Aleah Goodman: G
Katie McWilliams: G
Mikayla Pivec: G
Marie Gülich: C
Joanna Grymek: C
Based on personnel for next season, I see the Beavers tweaking their offense slightly and working an inside-out game. With two players in Gülich and Grymek being over 6-5, the Beavers will have a dominant post advantage over most teams in the country. When the defense decides to load the paint, Goodman, McWilliams, and Pivec will light it up from 3-point range.
Projected 2017-18 finish
Record of 25-7 (13-5): 4th in Pac-12
Related