Oregon State Football: A Closer Look At USC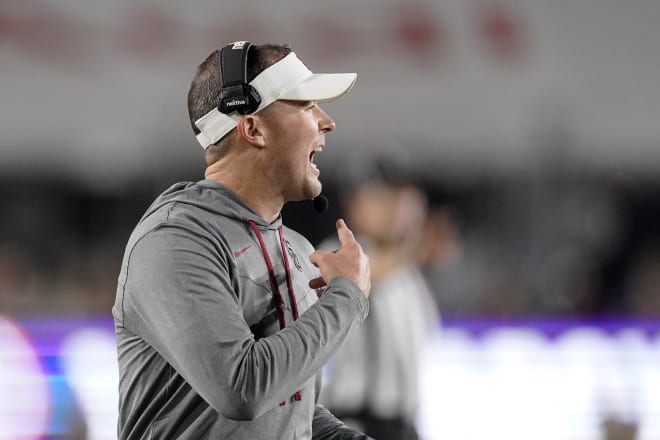 USC Quick Hits
- QB Caleb Williams went 25-of-37 for 284 yards and 2 TDs with 0 INTs in USC's 45-17 victory over Fresno State. He also scored 2 rushing TDs against the Bulldogs. His 2 rushing TDs are the most in a game by a Trojan QB since Sam Darnold scored twice on the ground on Sept. 29, 2017 at Washington State.
- Williams is now ranked 4th nationally in completion percentage (0.744), 7th in passing efficiency (190.5), and 10th in points responsible for per game (20.0). He also leads the Pac-12 Conference in each of those categories.
- USC has totaled 152 points in the first 3 games of the 2022 season. The last USC team to score more points through the first 3 games was the 2005 team which scored 178 points. It's the first time USC scored 40 or more points in any 3 consecutive games since doing it the final 2 games of the 2016 season and the first 2 of the 2017 season.
- USC has won each of its first 3 games by 10 or more points. The last time USC began a season with 3 wins each by 10 or more points was the 2007 season.
- WR Jordan Addison scored a TD on USC's first possession of the game, catching a 2-yard pass for his team-leading fifth TD reception this season. Addison finished with 6 catches for 69 yards. He leads USC through 3 games with 18 receptions and 295 yards.
- RB Travis Dye had 11 carries for 102 yards for his second consecutive 100-yard game. Dye had 105 yards rushing on Sept. 10 at Stanford. RB Austin Jones had 12 carries for 110 yards and a TD.
- The Trojans have registered over 500 yards of offense in each game this season. USC has scored a TD on its first three drives of all three games and has scored a TD on all 7 of its first quarter drives this season.
- TE Michael Epps intercepted a pass in the end zone to end the first half. He also caught a 10-yard TD pass in the fourth quarter.
- Defensively, USC held Fresno State to 17 points. It was Fresno State's lowest point total since losing 40-14 vs. Boise State on Nov. 6, 2021.
- DL Solomon Byrd had a massive impact on the game. After playing just 5 snaps in USC's season opener against Rice, he earned a starting position in week 3. Byrd collected 4 tackles (2.0 for loss with 1 sack), 1 forced fumble and 1 fumble recovery.
- USC's 10 total takeaways on the season are the most its recorded through the first three games of a season since it had 12 in 2004.
Did You Know? 
- USC is 3-4 in games played against Oregon State in Corvallis since the start of the 2000 season. The Trojans won in 2004, 2013, and 2018. Oregon State won matchups in '00, 2006 when USC was No. 3 in the country, 2008 when USC was No. 1, and in 2010...
- Saturday's game marks the first time since the 2000 season that both teams enter the matchup undefeated.
Matchup To Watch
Oregon State's defense vs USC's defense:
-> While the two defenses obviously won't be going head-to-head, this is one of the most important matchups in my mind ahead of the contest. Both USC (50.7 PPG) and Oregon State (45.7 PPG) can light up the offensive scoreboard and each rank in the top 15 in scoring offense with the Trojans checking in No. 7 nationally while the Beavers come in at No. 13...
With all that being said, I believe this matchup is ultimately going to come down to who's defense can make more plays, create turnovers, and give their offense more time on the field. If Oregon State's defense can be more effective at limiting the big plays than USC's defense is, the Beavers could be in a great position to win this contest.
Defensively, the two teams are near-even in terms of points and yards allowed per contest as the Trojans allow 19.7 points and 380.7 yards per game while the Beavers allow 25.7 points and 357.3 yards per game...
USC Press Conferences With HC Lincoln Riley + LB Shane Lee & DE Tuli Tuipulotu
Schedule