Oregon State Beavers 2022 NSD 2.0 Signing Day Central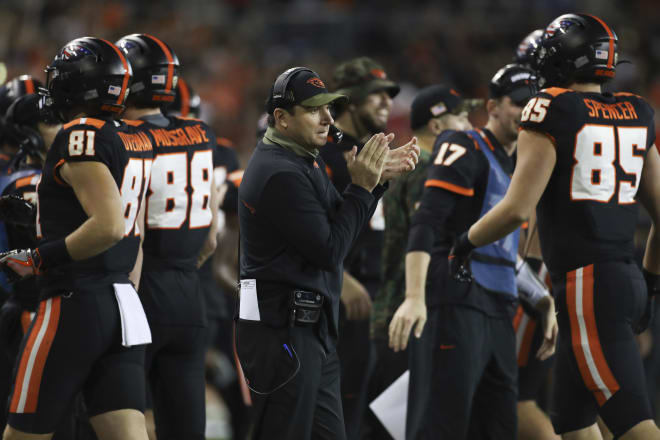 ILB Tyree Blake - 6-foot-3, 210-pounds - Jesuit (Portland, OR) 
- Letterwinner for head coach Ken Potter
- Earned honorable mention 6A All-State on defense as a senior
- Team MVP and two-year starter
- Totaled 124 tackles as a senior, adding two sacks with 17 tackles for loss. Totaled four interceptions - three returned for touchdowns - along with nine pass breakups
- Also recorded seven receptions for 172 yards and three touchdowns
- Also lettered in basketball
- Son of Sonya and Anthony Blake. Has four sisters: Tyrisha, Tyschal, Danielle and Khira. Has one brother, Anthony
- Intends to study business at Oregon State
- Chose Oregon State "because of the community and it feels like home. It's close to home which helps my parents. The coaching staff made me feel included and treated me well. I love the atmosphere and campus."
RB Jake Reichle - 6-foot-3, 215-pounds - Lakeridge HS (Lakeridge, OR) 
- Letterwinner for head coach Spencer Phillips
- Named Second-Team 6A All-State at running back his senior season
- Also named honorable mention All-State at defensive back
- Named First-Team All-Conference at both running back and defensive back as a senior
- Totaled 1,975 rushing yards his senior season
- Finished with 24 touchdowns and nine efforts or 100 or more yards
- Added 24 receptions for 195 yards and two touchdowns
- Defensively, made 109 tackles with three tackles for loss
- Added one sack with two interceptions and one pass breakup
- Helped Lakeridge to an 8-4 record his senior season
- Posted 87 tackles as a junior, totaling 17.4 per game
- Also finished with two tackles for loss, two interceptions and two pass deflections as a junior
OL Campbell McHarg - Cal Poly Transfer - 6-foot-4, 300-pounds - Thousand Oaks (CA) 
- Played four games for Cal Poly in 2021 and will enter OSU as a redshirt freshman
- High school letterwinner for head coach Casey Clausen at Bishop Alemany
- Lettered four years and served as team captain two years
- Two-time all-state selection and all-county and all-league during his career
- Son of Samantha and Colin McHarg. Has one sister, Caroline. Has one brother, Connor.
On the honor roll in high school
- Intends to major in digital communication arts at Oregon State
- Intends to go into coaching after his playing career• Chose Oregon State "for the great coaching staff and academics."
QB Dom Montiel - 6-foot-3, 185-pounds - Marshfield HS (Coos Bay, OR)