Smith impressed with younger players after Dam City Showcase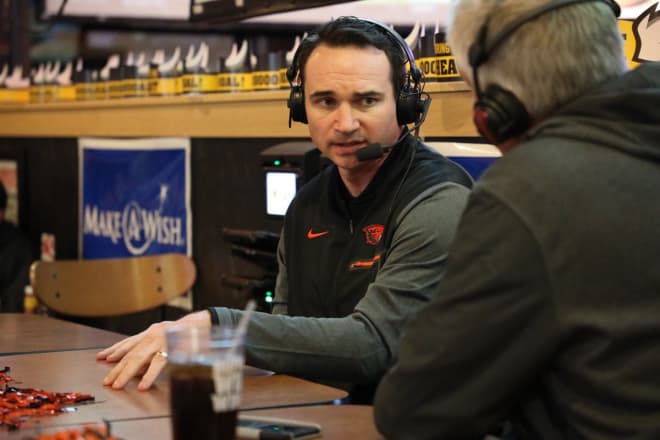 Following an 1-11 season, a first step towards rebuilding a football program is instilling better effort on the practice field, and new Oregon State head coach Jonathan Smith is liking what he's seeing seven practices in with his squad.
"I like the effort man. I like these guys; they're working," Smith said following Saturday's Dam City Showcase. "It wasn't perfect in any way on both sides of the ball, but I'm really pleased.
"If we keep this mindset and the kids keep working the way that they are, I feel really good moving forward."
When Smith met with the media, he talked about a number of young players that have impressed this spring. The running back corps is young, with the most experience player being Artavis Pierce, a true junior.
"I think those guys are doing some good things," Smith said of the running backs. "Each of them had good runs today. That group is going to be critical to us. Obviously, coming off of last year, we have some backs that are no longer here (Thomas Tyner and Ryan Nall), so we have guys getting to step up."
The Beavs have six scholarship running backs, which includes redshirt sophomore Christian Wallace, who played as a cornerback under the previous regime. His size and physical traits can make him a real X-factor in offensive coordinator Brian Lindgren's multiple look offense.
"I think he did some good things," Smith said of Wallace. "He runs the ball hard. I think he needs to run the ball higher and tighter; he put the ball on the ground today. We like Christian. He's been awesome on special teams and the effort he's given there."
MORE FROM DAM CITY: Notebook | Video Interviews | Video Highlights | Nuggets
Wallace was a part of the class of 2016 for Oregon State, as was Mason Moran, who has bounced around at different positions in his short career at OSU. He redshirted as a freshman and was moved from quarterback to safety last season before returning to QB at the end of the season.
To start spring camp, Moran remained at quarterback but moved to receiver for Saturday's scrimmage. It's likely that he stays there for the rest of the spring.
"He's got some versatility to him," said Smith. "He started doing some quarterback early on and we had some thoughts about moving him around to some different spots. He's played some defense before. He's still learning at the receiver position. He's a great kid with great effort."
On the practice field, redshirt freshman receiver Arex Flemings stands out as he stands at 5-foot-5, 137-pounds. He's already a fan and media favorite with his elusiveness.
"He's a playmaker now, when you can find him," Smith said with a laugh. "He's having a good camp; I like his effort as well. It's beyond carrying the ball; he's trying to block some people and do things on special teams. His effort is great."
On the defensive side of the ball, an early enrollee true freshman has impressed. Deshon Wilson made the biggest hit of the day when he forced a fumble on Wallace.
"This isn't the first day he's had some big hits in practice," Smith said. "That guy is flying around. I love his leadership and encouragement. He's having a good camp."