Nuggets from the Dam City Showcase
OSU's first public scrimmage is in the books as Jonathan Smith and the Beavers make headlines at Mountainside High. BeaversEdge.com's senior writer Brenden Slaughter breaks it all down in our nugget recap.
MORE: Spring Football HQ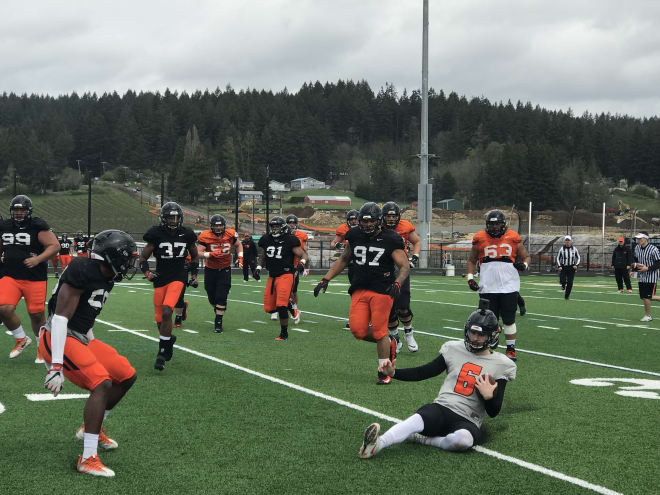 Quarterback

- The quarterback carousel continued at Mountainside High School as the Beavers had every quarterback with the exception of Nick Moore take reps. Jake Luton started off the 11-on-11 work and was followed by Conor Blount, Jack Colletto, and Aidan Willard.
- Luton was the best quarterback and the field today and it showed. He ran the offense with poise, precision, and leadership and really took the reigns of the team. Whether it was comforting Isaiah Hodgins after he was dinged up or being the first player in the autograph line, Luton is starting to make his mark on the team as a leader.
- Speaking of Luton, he connected with Kolby Taylor on two touchdown passes late in the live 11-on-11 and really appears to be growing a rapport with Taylor. Luton noted that Taylor is a guy who naturally finds the holes in the defense and that he's becoming a very good target.
- In a bit of surprising QB news, Conor Blount was the second quarterback to take reps during the live work. I've had mixed feelings on Blount since he's been at OSU, but today was by far and away the best he's looked in practice in an OSU uniform. He made nearly all of his throws and his scrambling ability was perhaps his most impressive trait. His ability to extend plays with his feet really make him unique in this battle as none of the other quarterbacks can scramble and throw accurately on the run. Blount's highlight was a touchdown fade pass to Isaiah Hodgins that was 100 percent on the money.
- Colletto and Willard received plenty of snaps, but didn't particularly impress me. Both guys seemed a little tense today and didn't seemed to be quite as poised as we've seen in regular practices. Colletto was the better of the two today and showed some nice flashes, but it appears this race is starting to perhaps thin out. Monday's practice will tell us a lot about the position moving forward.
Running Back
- This group was a lot of fun to watch today! With it being a scrimmage, naturally the pads were popping and the running back corps brought the lumber today as they played with a swagger as they looked for contact.
- Calvin Tyler, BJ Baylor, Artavis Pierce, Hunter Mattison and Christian Wallace all took reps in the backfield and all showed their stuff.
- In terms of scheme, it appears that the Beavers and offensive coordinator Brian Lindgren want to get their running backs in space given their speed and shiftiness. Gone are power backs Ryan Nall and Thomas Tyner, so the Beavers might be shifting towards running between the tackles and that would follow the mold that Lindgren had in Colorado with Phillip Lindsay and Smith with Gaskin at Washington.
- Artavis Pierce hasn't gotten a lot of headlines this spring with his limited reps, but he showcased why he's going to be OSU's starter come fall. His blend of speed, footwork, and hands make him a complete player and I'm excited to see what he can do with the opportunity to be the featured running back.
- Christian Wallace started on the defensive side before finishing the day on offense and he continued to impress. He earned oohs and aahs from the orange-clad crowd for his power running style where he simply ran through defenders. The way that he kept churning his legs to muscle through contact for the extra yard was particularly impressive and it's still a question to me as to why this change didn't happen quicker.
Want to read the breakdown of the rest of the positions? Click here!