Petras goes in-depth on Oregon State commitment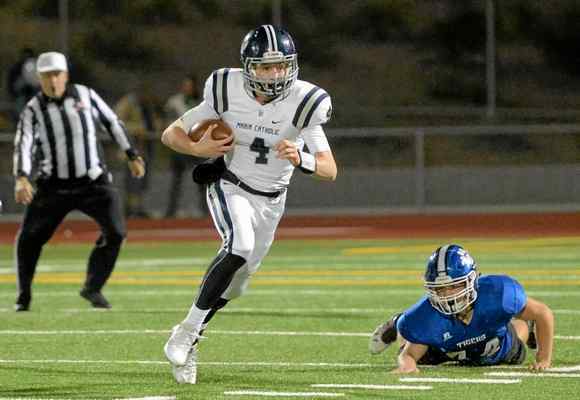 Oregon State landed a big commitment on Memorial Day as Kentfield (Calif.) Marin Catholic quarterback Spencer Petras announced his intentions to play for the Beavers.
The 6-foot-5, 215-pound three-star recruit chose OSU over offers from the likes of Cal, Colorado State, Fresno State, Louisville, Syracuse, and others.
"Yeah it was down to Cal and Oregon State and actually a couple of other schools as well," Petras told BeaversEdge.com. "I visited Oregon State about two weeks ago, and it totally blew me away how great of a place Corvallis was and how the football culture there is a special thing.
"Coach Andersen and his staff really seemed like great coaches and great people. That's the environment I want to be in.
"The facilities really exceeded my expectations; they're top of the line. The people in Corvallis and the culture surrounding Oregon State is really special. Everything in Corvallis is all Oregon State. That's a place I'd love to call him, and that's the place I'm going to call home."
*** Discussion: Petras commits to Oregon State ***
Petras felt very comfortable with his area recruiter, future position coach, and future head coach.
"I've known coach Baldwin for a while because he recruits my high school," Petras said. "He's an awesome guy. I've been talking with him for a while messaging over Twitter. Coach Andersen - I got a chance to sit down with him when I visited, and he's an amazing coach. Coach McGiven - he stopped by my high school, and I got to meet him. We've talked on the phone a lot. Again, he's an outstanding guy and coach."
Oregon State added two quarterbacks in the class of 2017 in Aidan Willard and Jake Luton, who are pro-style, gunslinger quarterbacks. Petras also fits that mold.
"Their changing their offense around a little bit in terms of moving from wanting a dual-threat guy to wanting a pro-style guy," said Petras. "They love the fact that I have a big frame, can sling the ball around, and can make all of the throws in their offense."
*** How many 2018 quarterbacks will Oregon State take? ***
With Petras' early commitment, he is already thinking about being a lead voice for OSU's 2018 class.
"I'm fired up to recruit anyone that the coaching staff wants and help build the class to the best it can be," he said.
Don't expect any drama in Petras' recruitment. He is set with OSU and will enroll early to compete next spring.
"I'm locked in. I'm 100% committed to Oregon State," he said.
Related