Oregon State Spring Analysis: Running Backs
Who's Gone?
Tim Cook
Marcus Greaves (Retirement)
Paul Lucas
Of this list, the Beavers don't lose anyone who was a major contributor in the backfield. Greaves could never crack the rotation, Lucas was more of a scat-back, and Cook really only got two games to show what he could do on the field. The bottom line here is that the Beavers will be just fine in the backfield. I don't anticipate the losses of these guys to affect OSU's backfield in the slightest. I give much respect to Cook for stepping in and having a career game against the Pac-12 Champs, the Washington Huskies, and for playing an unselfish role in special teams. He won't be remembered as a Beaver great, but he was a great team player.
Who's Coming Back?
Ryan Nall, JR
Artavis Pierce, SO
Jaylynn Bailey, SR
As the season went along, Nall and Pierce became quite the 1-2 punch. However, both of them struggled with staying on the field thanks to nagging injuries. But when Nall and Pierce are healthy, there might not have been a better duo in the conference. They combined for over 1000 yards and they will be looking to expand those numbers in 2017. When Nall is healthy, no one in the Pac-12 can tackle him one-on-one, and Pierce is no slouch either as he got bigger and stronger in the offseason. The sky's the limit for these two and I wouldn't want to be an opposing coach trying to gameplan for these two.
Who's Coming In?
Thomas Tyner, SR*
Trevorris Johnson, SR
BJ Baylor, FR
Calvin Tyler, FR
* Eligible for two total years with OSU if he applies for NCAA paperwork
I'm awfully glad I waited until this week to write this RB preview, because we now know that former Oregon running back and former five star recruit Thomas Tyner is intending to transfer to Oregon State for the end of his eligibility. If he does end up in Corvallis, it will be the highest rated recruit to ever land on OSU's campus and that definitely has to raise some eyebrows. When he was at Oregon he ran a 4.28 40 yard dash and if he can bring that speed to OSU, he could be a tremendous compliment to Nall and Pierce's bruising styles. However, the big question mark is his health. When he was in high school he struggled with ankle issues, and at Oregon he dealt this shoulder issues.
With Trevorris Johnson, I think he provides another running back who can provide depth. The difference between having to play Johnson or a guy like Jaylynn Bailey is huge. Essentially, the fourth string guy has a good amount of D1 experience and that is nothing to scoff at.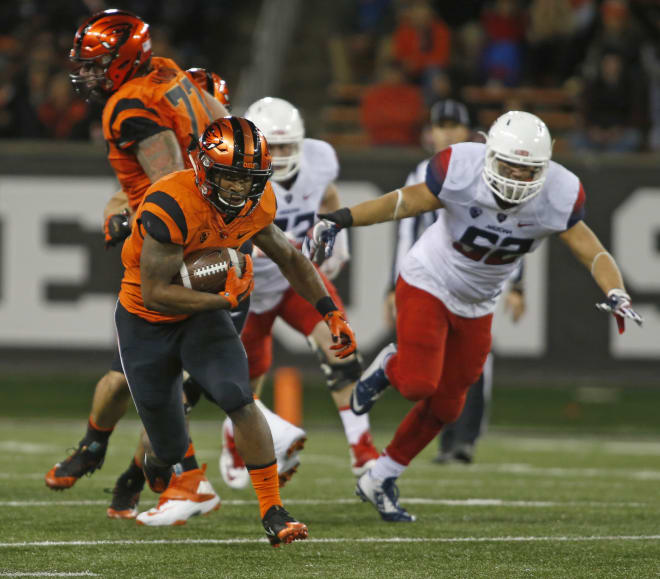 Spring Analysis
Most of the spring revolved around Artavis Pierce and Jaylynn Bailey at running back. It was evident from the beginning that Gary Andersen and Co. didn't want to put many miles on Nall if at all possible, and they succeeded in that aspect. Nall took limited but important reps to keep him fresh and in shape. When Nall wasn't on the field, Pierce and Bailey took over. Bailey played great ball all spring and showed why he is revered by his teammates. He took every rep like it was his last and provided some impressive runs while proving he is more than just a practice body. However, with the addition of Johnson and Tyner in the offseason, Bailey will be buried behind immense talent.
Spring Superlatives
MVP, Ryan Nall: Even though Nall didn't get very many reps this offseason, he still earns the nod of MVP because of what he did with those limited reps. He was much more disciplined this spring about picking his spots and precisely choosing when he needed power, when he needed speed or sometimes needed both. To me, it looked like he added more muscle in the offseason and looks a step faster as well. But perhaps most importantly, his hands improved immensely in the offseason. There were many times this spring where he was able to break several run pass options for big gains because he was able to secure the ball and then turn on the jets. In order to be a complete running back in the Pac-12 or the country, you need to be able to make plays in the passing game, and Nall is getting better at it each and every day.
Biggest surprise, Artavis Pierce: AP earns the nod of biggest surprise because of the work that he did between the Civil War and the start of spring camp. When I first saw him practicing early in spring, I barely recognized him because of the amount of muscle he added to his frame. He reminds me a lot of Doug Martin in the way that he has the strength to run through opponents. You usually don't see that kind of progression from a guy who is entering his sophomore season and didn't utilize his redshirt season. On the field, he received the majority of the reps this spring and didn't disappoint. Whether it was running between the tackles, snagging a pass on a RPO (run pass option), or pass blocking, he was extremely consistent. The interesting storyline going into 2017 is how he will handle sharing duties with Thomas Tyner. Last season he emerged as the de-facto backup and played well. However, Tyner is a major talent and the Beavers won't be able to keep his talent off the field for very long.
Projected Depth Chart
Starter: Ryan Nall

Bench players that will provide depth: Artavis Pierce, Thomas Tyner, Trevorris Johnson