Oregon State Baseball Set To Face UC Irvine
WHO, WHAT, WHEN, WHERE
UC Irvine vs No. 13 Oregon State
Goss Stadium at Coleman Field; Corvallis, Ore.
Friday - 5:35 p.m.
LHP Cooper Hjerpe (2-0, 0.82) vs. RHP Michael Frias (2-0, 5.73)
Saturday - 1:35 p.m.
RHP Jacob Kmatz (2-0, 2.16) vs. LHP Nick Pinto (0-1, 3.18)
Sunday - 1:05 p.m.
TBA vs. RHP Danny Suarez (0-0, 4.00)
TV: OSU Live Stream
Radio: Varsity Network Radio
Quick Hits
- Jacob Melton and Justin Boyd have each hit safely in all seven of the Beavers games this season.- Melton is 15-for-28 with two doubles, two triples, two home runs, and 15 runs batted in. He has multiple hits in six games.
- Boyd, meanwhile, is 10-for-26 with three doubles and eight RBI. He is riding an 11-game hit streak dating back to the 2021 season.
- Oregon State's defense has shined through the first seven games of the season, totaling just three errors.
- The Beavers are among the Pac-12's leaders with a .987 fielding percentage this season.
- OSU has turned six double plays in its seven games, and opponents are just 1-for-3 in stolen base attempts.
- OSU was 3-for-9 with runners in scoring position in the finale versus Xavier, and as a team this season, is 44-for-101 (.436). Opponents are just 14-for-68 (.206).
- Oregon State has outscored its opponents, 83-21, this season.
- The Beavers have 23 runs in the eighth inning.
- Opponents have scored 10 or their 21 runs this season in the eighth and ninth innings combined.
- Oregon State is looking to go 8-0 for the 11th time in school history.
- The Beavers hit .312 (39-for-125) at UC Irvine last season. OSU collected 17 extra-base hits in the series, including six home runs.
- Friday is OSU's first night game of 2022.
Beavers In The Rankings
OSU Baseball Rankings
| Organization | Rank |
| --- | --- |
| D1Baseball.com | 13 |
| Baseball America | 9 |
| Collegiate Baseball | 7 |
| Perfect Game | 16 |
| USA Today | 9 |
| NCBWA | 9 |
By The Numbers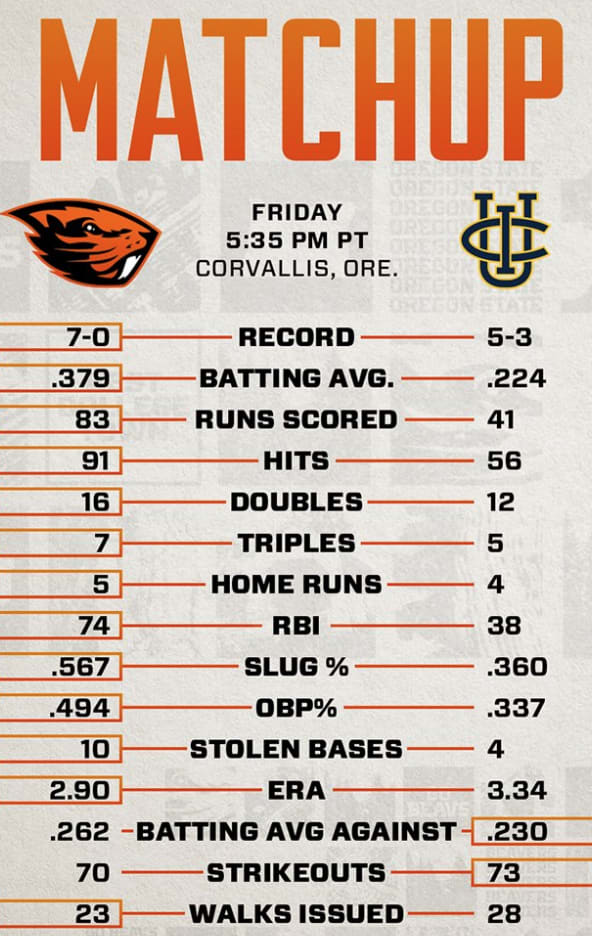 Oregon State Hitting & Pitching Stats