Beavers Crush Crusaders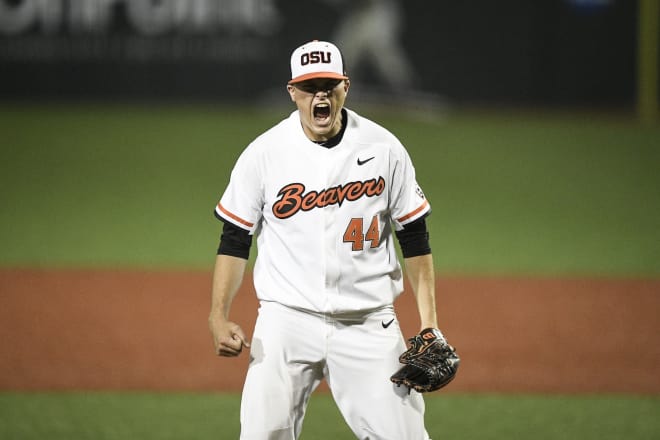 The Game
The Oregon State Baseball team took their first step towards a postseason crown with a 8-2 win over the Holy Cross Crusaders (23-28) Friday night at Goss Stadium. The Patriot League champions fought a hard fight all night long, but OSU's starting pitching and timely hitting sent the Crusaders into the loser's bracket.
"That first game is always tough for everybody," Pat Casey said. "It seems like we've had a lot of tight games and Holy Cross played very well. I thought Thompson was very good today. I'm always excited to get out of the first game, it's a tough one. You see teams beat people all the time, that is what these games are for. Our guys are excited about that win."
Jake Thompson earned his 13th win of the season (NCAA high) working 7 ⅔ innings, striking out 10, while only allowing one run on four hits. From the first pitch Thompson was magnificent, mowing down hitters with a variety of pitches before giving way to Jake Mulholland with two down in the 8th. Mulholland came in the 8th and finished the game on a high note, breezing through the rest of the 8th and wrapping up the ninth to give the Beavers their 50th win.
The Beavers (50-4) were paced by Trevor Larnach, Adley Rutschman, KJ Harrison, and Cadyn Grenier who all had two hits a piece. Michael Gretler added a solo home run in the 7th inning as well.
"I was just trying to be comfortable at the plate," Grenier said. "I went up to to the plate with a plan each time, and tried to be comfortable in the box and I saw the pitches pretty well."
OSU started their scoring in the third adding two, before breaking the game open in the 6th and 7th scoring three and two runs respectively.
Very few teams are as dominant and elite as Oregon State, and Holy Cross coach Greg Dicenzo mentioned just how dominant a team like the Beavers can be when they are on their game.
"When they get into jams they are able to execute big pitches in big counts," Dicenzo said. "Their trademark all season has been when they have guys in scoring position they take advantage. When you play against the best, you have to be your best and we'd played well but we didn't play well enough to beat a team that racked up 50 wins."
Top Performer: Jake Thompson
Thompson earns the nod here because his play put the Beavers in a very good position for the rest of the weekend. Pat Casey and Co. chose to go with the righty from Florence in the first game to save Luke Heimlich and Drew Rasmussen for the tougher opponents and it paid off big time. Not only does OSU have their two best pitchers remaining, but they were able to find their offensive groove at the right time.
"My freshman year I got the ball (in an elimination game against UC Irvine) and I was able to get some experience," Thompson said. "Today was another opportunity and I went out there and did what I was capable of doing."
Up Next:
OSU will matchup with the Ivy League champion Yale Bulldogs (33-16) tomorrow at 7 p.m. on ESPN3. Yale defeated No. 2 seed Nebraska earlier in the day 5-1 thanks to a terrific performance from ace Scott Politz. The Bulldogs will present a difficult challenge for the Beavers due to their incredible offensive firepower. They rank 2nd or better in almost every offensive category that the Ivy League has.
The Beavers will throw Luke Heimlich in tomorrow's showdown against Yale, which is a plus for the Beavers as he is currently on eight days rest since his last outing against Abilene Christian. Yale will most likely counter with Eric Brodkowitz who is 6-2 and on the season with a 4.73 ERA. He is second on the team with 55 strikeouts, but has also allowed 33 walks on the season.