OSU advances to Super Regionals
For the first time since 2013, the Oregon State baseball team is headed to the Super Regional round. Thanks to timely hitting, and good enough pitching the Beavers were able to dispatch of the Bulldogs winning 8-1 before a sellout crowd at Goss Stadium. OSU will host the Corvallis Super Regional next weekend.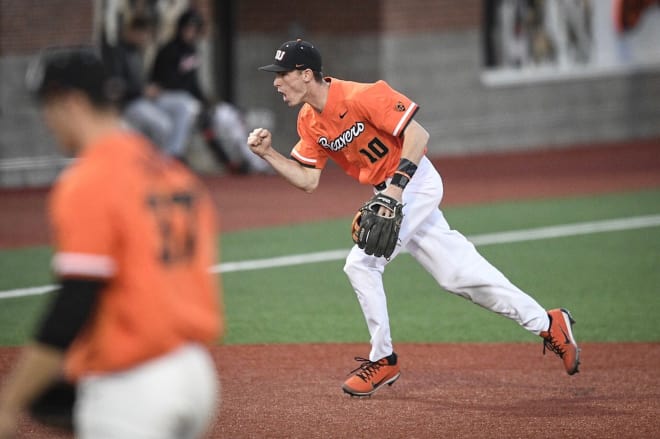 The Beavers (52-4) received a much tougher test from Yale (34-18) the second time around as the Bulldogs hit OSU starter Drew Rasmussen hard from the start of the game, forcing him to throw a lot of pitches early and as a result he wasn't able to settle into any sort of a rhythm.

"I thought he was amped up pretty good in the first inning. I thought he was overthrowing a bit and over-excited but that's natural. He's such a competitor that he found his way through that. I thought he settled in and did a nice job for us."
Rasmussen didn't have his best game on the mound, as he was hit hard several times, but he was able to get the big outs when needed before giving way to Brandon Eisert in the 5th inning. Eisert picked up his fifth win of the season in 3 ⅔ innings of work before giving way to Jake Mulholland in the 8th, and finally Max Engelbrekt in the 9th to finish off the Bulldogs to complete the 8-1 victory for OSU.
Yale wasted no time in proving that last night's offensive goose egg was an anomaly as they opened the game with a single and double to score the game's first run and looked like they were going to be a roadblock in OSU's quest to host a super regional.
However, the Beavers responded quickly by scoring one in the 1st, five in the 3rd, and two in the 5th to assure themselves of being a Super Regional host for the first time since 2013. And coincidentally, the last time they went to Omaha.
Offensively the Beavers were paced by the top of their lineup as Steven Kwan had three hits and one RBI, while Nick Madrigal broke out of his hitting slump in the most unorthodox way as he reached on four bunt singles. Michael Gretler led the team with three RBI's on the way thanks to his home run in the third inning.
Casey mentioned that he had never seen four bunt singles in a game in all of his years of coaching.
"I have never seen that as far as I can recall, but I'm so old it could have happened and I don't remember. You have to realize that's a real possibility," Casey said with a laugh.
Michael Gretler: 2 H, 3 RBI, 1 HR
Perhaps nobody on OSU's roster has been seeing the ball as Michael Gretler has been over the last couple games. Gretler had a solo home run on Friday's game, and then punctuated his weekend of power as he smashed a no-doubt three run home run over the left field fence in the 3rd inning that really broke the game open for the Beavers. Gretler has been one of OSU's most consistent hitters over the past few weeks, and he has also been playing incredible defense at the third base spot. He made several nice plays over the course of the weekend both offensively and defensively.
"I've just been trying to take it pitch-by-pitch," Gretler said. "I'm ready to swing every single pitch, trying not to swing at balls out of the zone and if you put good swings on the ball it has a chance."
The Beavers will be hosting the either the Vanderbilt Commodores or the Clemson Tigers in Corvallis next weekend. Clemson defeated Vanderbilt 2-0 late Sunday night to force a deciding game tomorrow night in Clemson. Nevertheless, whichever team the Beavers play will have to come and play the Beavers at their home field in front of what has been a fiery sellout crowd for the past month. It is yet to be determined whether the Beavers will play Friday, Saturday, Sunday.

"The one thing that everyone has mentioned to me is how unbelievable it's to play at Goss Stadium," Casey said. "When the fans are energized, we are energized and that is really cool."
Clemson and Vanderbilt are the two potential teams that OSU could play next weekend, and Casey had nothing but praise for both squads.
"We are going to have to be better next week. There is a real club coming next week, either Clemson or Vanderbilt. We are going to have to be better, that's all there is to it. Thoroughbreds get to Omaha."
Bonus: Here are the Beavers that made the Corvallis Regional All-Tournament Team
MVP- Steven Kwan
Catcher- Adley Rutschman
First Base- KJ Harrison
Third Base- Michael Gretler
Shortstop- Cadyn Grenier
Outfield- Steven Kwan
DH- Trevor Larnach
Pitcher- Luke Heimlich