OSU has young talent galore
With all of the injuries that the Oregon State football team has suffered, young players have had to step up in their place.
BeaversEdge.com takes a look at the first and second year underclassmen that have played well for OSU this season.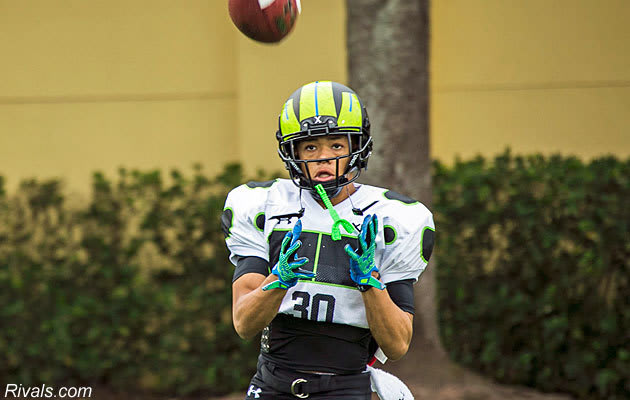 Rundown: Lucas was an Under Armour All-American in the class of 2015. He was committed to Arizona State before ultimately signing with the Beavers. The true sophomore had a season high rushing total (44) versus Cal in October. He caught a 44 yard pass against Idaho State. He will only become a more focal point in the offense as time goes on.
Rundown: Hernandez was teammates with Lucas in high school. He is a true sophomore who played one year of junior college ball. Hernandez did not have a catch in the first three games of the season, but he's caught passes in the last seven games, including a season high in catches (5) and yards (65) against UCLA last week.
Rundown: Pierce has been excellent this year as Ryan Nall's backup and stepping in for Nall when he's been injured. Nall was out for the UCLA game, and Pierce had a season high in carries (18) and yards (73). Pierce also had his first multi-touchdown game with two goal-line plunges. He has 76 carries for 380 yards and four touchdowns this season.
Rundown: Collins is just a true sophomore even though it might not seem like it since he's played a prominent role in the offense for the last two seasons. When the OSU passing attack is successful, then Collins is having a successful game - the two go hand in hand. Collins has caught 36 passes for 418 yards and a touchdown this season. Please keep Seth Collins in your thoughts and prayers as he is likely out for the rest of a year with a sickness.
Rundown: Crawford is a star in the making, and he's been incredible this season. He's a tackling machine at his cornerback spot. He has a sack this season and ten pass break ups. I honestly feel like Crawford can make it to the NFL. He has three more years to play, and he will only get better.
Rundown: Irvine stepped in as the team's starting cornerback opposite of Treston Decoud, but he was then injured and is out for the year. Irvine and Crawford will make a formidable set of outside cornerbacks next year.
Rundown: Moore has really impressed me this season. Like many other guys on this list, I bet Pac-12 coaches are upset with themselves for not offering Moore. He barely played in the Beavers' first six games, but as injuries continued to mount up at corner, Devin Chappell dropped down from his safety spot to play nickel, and Moore played safety alongside Brandon Arnold. Moore had ten total tackles and forced a fumble against Washington State.
Rundown: Smith didn't fill up the stat sheet when he played this season, but he showed enough this season that he has a lot of promise. Smith is out for the season after he sustained an injury during the Cal game.
Rundown: Hughes-Murray's redshirt was burned for the Washington game as injuries continued to pile up at outside linebacker. His best game of the season was against Stanford as he registered his first collegiate tackle for loss and had nine total tackles. He blocked a kick in the WSU game.
Rundown: Another young man that was thrown into the mix due to outside linebacker injuries. Unutoa-Whitson's redshirt was burned during the Utah game, and he had a season high six solo tackles against UCLA.
Rundown: The redshirt freshman has started all ten games this season, and the offensive line has improved a great deal from the beginning of the season. Brandel will be an anchor on the O-line for years to come.
Rundown: Togiai was just one of four true freshman to play in 2015, and he started five games. Togiai caught four passes for 31 yards and a touchdown in the season opener, but that was the only game he caught a pass in as he is out for the season. He will be back next year and will give the Beavers a receiving option at tight end. The OSU quarterbacks have barely targeted the tight ends this season.
Rundown: Robinett is the fourth true freshman outside linebacker that has looked good this season. At 6-foot-8, 236-pounds, Robinett is hard to miss on the field, but sadly, he was injured after playing in his second game (he started in both games as well).
Rundown: Aydon has the potential to be pretty great for OSU. At his nose tackle spot, Aydon has played in all ten games this season and has started in four of them.