WBB: Beavers looking to use losses as learning experiences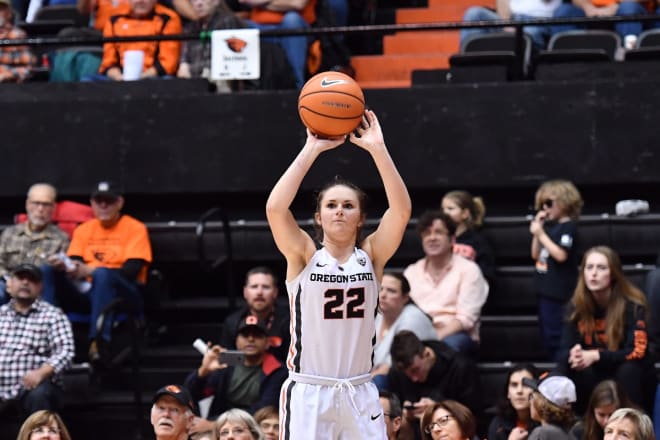 Valuable experience will pay dividends for young team
Based on the past several seasons, the Oregon State women's basketball team is in uncharted waters in terms of their win-loss record. The team currently sits at 3-2 with wins against North Dakota, Utah Valley, and North Carolina Central and losses against Notre Dame and Duke.
For comparisons sake, the Beavers lost just 5 games in each of the past three seasons over the course of the entire season. That isn't to say that the Beavers won't be at the same level that they were over the past several years, but OSU is very youthful this season and is still looking to gain traction.
Despite close, heartbreaking losses that very easily could have been wins, against ND and Duke, the Beavers hope to use those losses to their advantage in terms of learning valuable lessons about their team.
Senior center Marie Gülich is OSU's only senior sees the losses against ND and Duke as valuable experiences for a young team that is still gaining experience.
RELATED: The story of Craig Evans | Oregon State hires Jonathan Smith
"It really sucks to lose especially after the last three years where we didn't lose a lot," Gülich said. "You are just kind of used to winning and it sucks to lose such close games especially when you know you could have won those games. You look at the mistakes that could have been completely avoidable. At the end of the day you have to learn from those games. We are a young team, but I don't want to use that as an excuse as we have a lot of good players. We have to learn from our mistakes and put all of it together."
Gülich also adds that she feels she needs to continue to be a vocal leader in the team huddles.
"In the beginning of the season, I had to get used to being in the leadership role," Gülich said. "It was shown against Notre Dame and Duke that I have to be present as a leader and be confident and demand the ball. Those are tough lessons and I like getting better through them. Overall, I'm getting more comfortable leading the team."
Sophomore guard Mikayla Pivec is taking on a much bigger role this season for the Beavers and notes that losing is never easy, but that the Beavers have to take the positives out of the losses.
"It's much easier to learn from wins, but losses hurt more," Pivec said. "When you lose you have to come back to practice and have much more intensity and focus on what we can do better."
Pivec added that the loss to the Blue Devils really helped the team with internal growth.
"We hadn't been exposed to so much adversity before," Pivec said. "We have been up in most games and to have that first punch hit by Duke when they got up on us and being able to fight back like that showed we can battle back from any deficit."
Guard Kat Tudor echoed her what her teammates said, but also added that losing in any capacity really stings because the Beavers have a culture of winning.
"It's always tough to lose, but there are learning experiences in these losses even though it's never good to lose," Tudor said. "Against Notre Dame we learned we have to rebound better, box out and guarding your man. In the Duke game we were better, but had too many turnovers at the end. It's a lack of experience right now and we are getting better."
Tudor heating up
The Beavers have been playing very well offensively as of late and a big part of the reason why has been the hot shooting of Tudor. Last season, Tudor was known for her three point shooting off the bench. This year, Tudor has grown as a player both offensively and defensively to be known as more than just a three-point specialist.
"I've been getting great shots and have great passers on the team," Tudor said. "I've been trying to get a lot of shots up lately."
Aloha Beavs
The Beavers will be getting some much needed sunshine during their next road trip as OSU heads to Maui, Hawaii for the Maui Jim Maui Classic. The Beavers are hosts of the tournament and will be playing games against Nevada and Utah State Friday and Saturday respectively.
"It will be nice to get away from the rain I will try and work on my sun tan a little bit," Pivec said with a laugh. "It will be nice to continue to play with my team in a new venue against some new teams."
Tudor is excited to be able to get to go to a warmer climate but says the Beavers are focused on getting two victories first and foremost.
"I'm super excited to go to Maui," Tudor said. "Obviously we have to get our job done and then we can hopefully relax and have fun. But first, we have to get the job done.