The 3-2-1: Beavers look to grab second Pac-12 win
The 3-2-1 gives three things we learned at practice this week, poses two questions, and has a prediction of Saturday's contest versus Arizona.
Three things we learned this week
1. Ryan Nall is healthy
Oregon State fans are glad to hear that their star sophomore running back is looking 100% for the first time in a while. He was held out of last week's game against UCLA and really hasn't been himself since his big performance against Cal in early October. With two winnable games to finish out the season, Nall will be relied upon to carry the load offensively and break some big runs.
2. Marcus McMaryion looks locked in as the No. 1 QB
Last week, the OSU coaches said that true freshman Conor Blount would play against UCLA, but head coach Gary Andersen said this week that he did not feel the situation was right to play him. Andersen has the same plan with playing both quarterbacks this week, but after this week of practice, we believe that McMaryion will take a high majority of the snaps, if not all of them.
3. The OSU defense looks a lot better with Williams and Titus Failauga back in the fold
The Beavers finally catch a break at cornerback and outside linebacker with Dwayne Williams and Titus Failauga likely back in the starting lineup. Williams started the first three games of the season, and Failauga played in the first four games and started one of them. Safety Jalen Moore suffered a season ending injury that he announced this week, so that makes it especially important that Williams is back. He will slide into the nickel spot and Devin Chappell, who was rotaed between nickel and safety based on the defensive set, will stay at his safety position.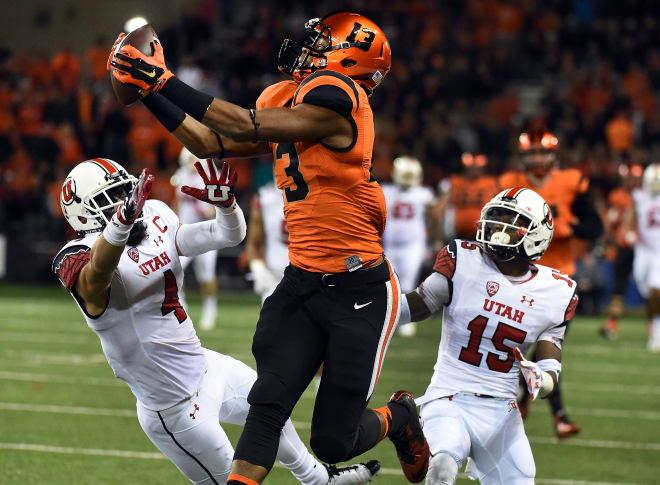 Two Questions
1. Who will step up in Seth Collins' absence?
It is well documented by now that wide receiver Seth Collins will be out with a sickness, so the Beavers will look to replace his productivity at the receiver position. When Collins is utilized properly, he is a special player. He will be hard to replace, but if Jordan Villamin can play well, then it shouldn't be much of a drop off, if any. Villamin is a different type of a receiver than Collins, and he has a lot of talent with his 6-foot-5, 225-pound frame and ability to high-point the football. There's no doubt that Villamin has had a disappointing junior season after the numbers he put up last year. He caught a season high four passes last week (let's just forget about his fumble for a moment), and Villamin has a great chance to end the season on a high note leading into next season.
2. Can the OSU defense force turnovers?
Oregon State forced three turnovers against UCLA, in large part due to Manase Hungalu. It's safe to say that the Beaver offense has not been great this year, so the defense will need to help them out by giving them short fields and even a defensive touchdown.
One Prediction
Oregon State will cover the spread
According to oddsshark.com, Oregon State opened up as a 7 point favorite against Arizona, and the spread now ranges from anywhere between 4.5-to-7 based on the multiple betting websites listed. We like Oregon State to win this game by more than a touchdown.
Arizona 24, Oregon State 34