Oregon State Women's Basketball looks for more success
Quick Info
Oregon State WBB: 27-3 (16-2 Pac-12)
Pac-12 Champs (undisputed)
No. 1 seed in Pac-12 tournament this weekend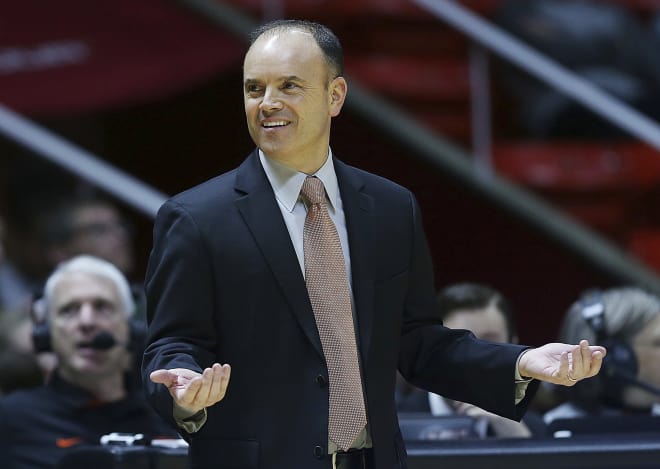 Picked to finish 5th?
#5th is trending amongst the Oregon State women's basketball team. Why? Because in the preseason Pac-12 conference poll, the Beavers were picked to finish 5th. Well, 5th couldn't have motivated the Beavers any more as they defied expectations on their way to a third consecutive Pac-12 title, and in all likelihood a two or perhaps even a one seed in the NCAA tournament.
Beavers taking home the hardware
For those who were unaware, when the Pac-12 announced their end of the season awards, OSU did quite favorably.
* Gabby Hanson: Defensive Player of the Year - Third straight Beaver to win award (Ruth Hamblin twice)
* Scott Rueck: Coach of the year (second time)
* Sydney Wiese: Pac-12 all conference team (All four years, second Beaver to accomplish)
* Marie Gülich: All Pac-12 conference team
* Mikayla Pivec: All Pac-12 freshman team
* Breanna Brown: All Pac-12 defensive team honorable mention
Pac-12 Tournament Breakdown
Until Thursday around 2:00, we won't know who OSU plays. As it stands right now, the Beavers are set to take on the winner of the Cal-USC game. Both teams are intriguing for the Beavers to take on given that they just played Cal this past Sunday, and USC handed the Beavers a blowout in Corvallis the last time the two teams played. Either way, I think the first game is intriguing for OSU, but I would much rather play USC. In basketball, it is very difficult to beat a team three times, and I think OSU is licking their chops to get another crack at the Women of Troy.
Should OSU win Friday, they would play either UCLA, Utah, or ASU in the semifinals. Personally speaking, I think OSU will matchup with UCLA or ASU in the semi's and if they win, they would play Stanford or Washington in the championship. Below are my pre-Pac-12 Tournament superlatives for the conference:
Most to prove: UCLA: The Bruins were picked to the win the Pac-12, and finished 4th. They will have a big chip on their shoulder.
Biggest disappointment thus far: UW as a 3 seed. No disrespect to OSU or Stanford, but Washington should have finished higher than third in the conference. I think OSU deserved to win the conference, but with the career leading scorer on your team in Kelsey Plum, UW should have finished higher than third.
Cinderella: Last year it was Cal, and this year I think it's going to be the Oregon Ducks. The Ducks have oodles of talent, and I think they could catch UW napping in the quarterfinal round.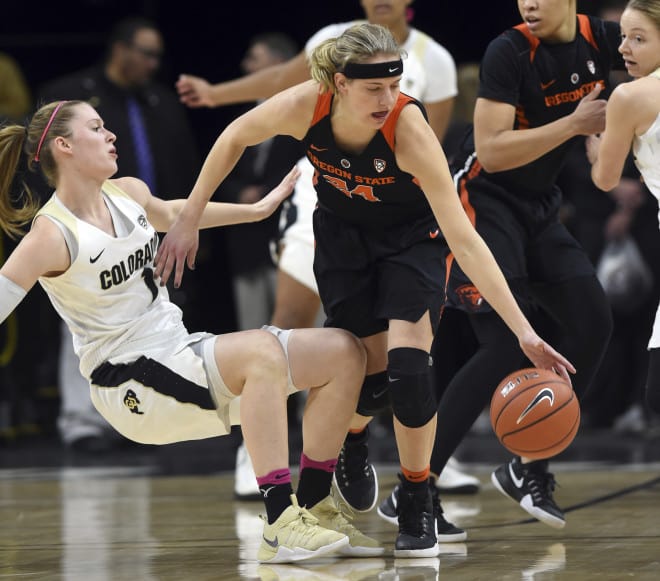 Bracketology
In the latest rankings release of bracketology by ESPN's Charlie Creme, the Beavers have moved into the Stockton regional as a 2 seed. For Beaver fans this is good news because:
A. You are on the opposite side of the bracket of UConn.
B. Stockton is a lot closer for Beaver fans to travel to. However, before the Beavers get to Stockton, they will be hosting the first two rounds of the NCAA tournament. Currently, the Beavers would be facing UC Davis in Gill Coliseum in the first round, and if they win they would play the winner or Creighton/Indiana.
Either way, I really like OSU in the Stockton Regional, and I hope that is where they end up.
The selection show is on March 13th.
Now that the regular season has come to a close, let's take a look at my brief superlatives for the Beavers.
MVP - Sydney Wiese
Is this even a debate? Other than Kelsey Plum, no player meant more to their team than Wiese. She led the Beavers in scoring, and gave the Beavers clutch shot after shot en-route to their third straight Pac-12 championship.
Most underrated - Gabby Hanson
Perhaps not underrated anymore given that Hanson was given the Defensive Player of the Year, but Hanson's defense won OSU many games. She will be missed in the future.
Freshman of the year - Mikayla Pivec
Another easy one, as Pivec came in and played tremendously for Scott Rueck immediately. Once she was inserted to the starting lineup, the Beavers played out of their minds on offense and defense. When she plays at the top of her game, the Beavers are almost unbeatable.
Quotable
Scott Rueck on OSU fan base in traveling to Seattle...
"I don't want to take it for granted, but we are accustomed to it," Rueck said with a smile. "Beaver Nation has traveled so well for this tournament for four years and we've been supported so well. It's a niche in Seattle that we are looking forward to again."
Rueck on playing Cal/USC...
"They are both good teams," Rueck said. "It doesn't matter, and why even speculate because you can't control it. Be ready to play anybody, and then you go do it. You keep it that simple."
Sydney Wiese on potential matchups...
"The whole weekend is a good shot to play a bunch of really good athletes again," Wiese said. "It might be a full L.A. weekend with USC and UCLA if everything goes our way. With the Pac-12 tournament you have to be prepared to play anybody, and we focus on our side of the bracket for teams we can see sooner than later. It's gonna be a fight whoever we play."