NUGGETS: Luton shines on Day 8
Today's practice was open to the media, and BeaversEdge.com has the very detailed report on how each position group looked following day eight's practice. Don't miss the practice nuggets below!
Miss any content? Head over to the Spring Practice HQ Page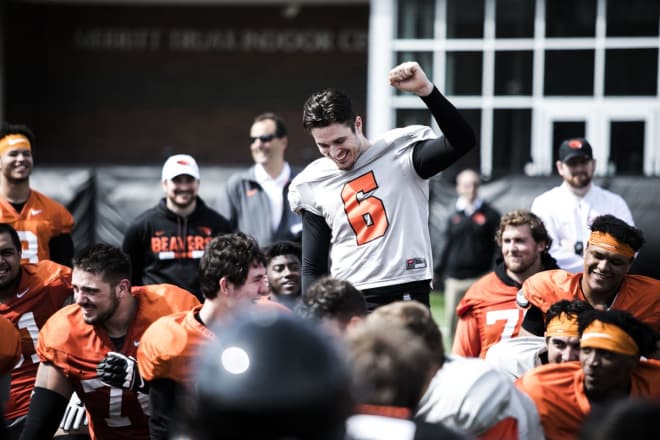 Starting with the linebackers...
- The linebacking core looked their best so far this spring. They were heavily involved with the offensive line unit and seemed to be everywhere on the field in 11-on-11 work. I liked seeing their progress on the strip drills and the hustle they ran with in other drills.
- Today was also the first day other players got involved who hadn't before. Adam Soesman, Shmar Smith, Andrej Hughes-Murray, and Luke Leonnig all made an impact in either providing pressure or wrapping up on open field tackles. Leonnig almost picked off Blount for a pick-six, but just nearly dropped the ball off his fingertips.
- I was impressed with the line backing group as a whole today. Coach Trent Bray was especially vocal, preaching fundamentals and an emphasis on footwork. It was the first time they stood out to me and I'm intrigued to watch the progress in the next couple weeks.
Defensive Backs
- Manning was the standout today, making a few solid pass breakups, including one in the end zone to prevent the wide-open touchdown to Smalls. This isn't the first time Manning has impressed in practice and he continues to play smart while in coverage.- Isaiah Dunn looked sharp, breaking up two passes and almost securing an interception.
- Deshon Wilson once again found himself involved in several plays. For the entire spring so far, Wilson has looked impressive and poised for a freshman.
- Both Moku Watson and Jaydon Grant were dressed but did not participate in team drills today.
Special teams
- The normal special teams return unit once again participated in catch drills, with the addition of Xavier Crawford. Crawford was still dressed in a no-contact jersey and did not play in 11-on-11 drills, but looked fine while working on special teams.
- The punting unit did a solid job today and looked comfortable in the rain. Alex Bland and Daniel Rodriguez had several sky-high, well-placed punts of over 45 + yards each. It already looks like the punting unit is shaper than it was last season.
Want to read the full nugget report? Click here!