Nuggets from Oregon State's first practice of spring camp
BeaversEdge.com was live in Corvallis on Wednesday to report on Oregon State's first day of spring practice. Don't miss the practice nuggets below!
Miss any content? Head over to the Spring Practice HQ Page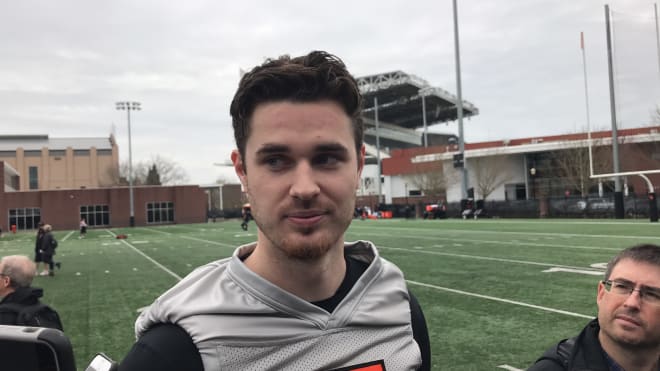 Quarterback
- The quarterback derby has begun! Jake Luton, Conor Blount, Aidan Willard, Mason Moran, Jack Colletto, and Nick Moore all took reps today which gives us the impression that Jonathan Smith is living up to his word about all positions being wide open.
- Jake Luton has no medical restrictions and is playing nearly pain free. He noted that he isn't quite at 100 percent, but that he felt he would be in the coming weeks. I still believe Luton is the frontrunner at the position, but Colletto and Moran really impressed in limited work.
- Reps were limited extremely spread out amongst the QB contenders, so we didn't get to see if one guy was better than the other in formations, but it appears that Luton is still the guy to beat.
- I was impressed with Colletto's poise, footwork, and arm strength. He made nearly all the throws today and looked really good for a guy who hasn't played at the D1 level yet. Keep an eye on him as I see him as a dark horse candidate.
SPRING FOOTBALL PROMO: Buy a month, get access until the season starts!
Running back
- The biggest news of the day was Christian Wallace lining up at running back. The former four star recruit was one of the gems of the Gary Andersen tenure in terms of high rated recruits, but never found the field. That's all behind Wallace now as he looked as comfortable as I've ever seen him on the football field. He played running back in high school and Smith said it was a combination of position need and Wallace's desire to why he moved to running back. It's only one practice, but Wallace looked very comfortable and could be in line to secure the backup position behind Artavis Pierce.
- Speaking of Pierce, he didn't take too many reps as expected. The coaching staff knows what Pierce brings to the table and there isn't much need to put unnecessary hits on your starting running back.
- This group is significantly stronger and more built this season compared to last. Pierce, BJ Baylor, Calvin Tyler, and Wallace all look like they added more muscle while getting more lean and agile. If Wallace can develop, this group could be a solid unit in 2018.
Wide receiver
- The receivers were really hard to get a read on today as they were heavily rotating throughout the sessions to keep everyone fresh. As best I could tell, the starting unit was Isaiah Hodgins, Trevon Bradford, and Timmy Hernandez.
- True freshman I'Shawn Stewart has already started to make an impact on the field as he caught several deep passes from the various QB's in addition to working as a returner.
- This group has a lot of bodies and it will be interesting to see how the depth behind the starters shakes out. Trevon Bradford and Arex Flemings were a couple other guys who stood out with some nice diving catches while also showing their ability to make defenders miss after the catch.
Want to read the entire report? Click here!