NUGGETS: Breaking down Oregon State's fourth practice
BeaversEdge.com was live in Corvallis on Wednesday to report on Oregon State's fourth day of spring practice. Don't miss the practice nuggets below!
Miss any content? Head over to the Spring Practice HQ Page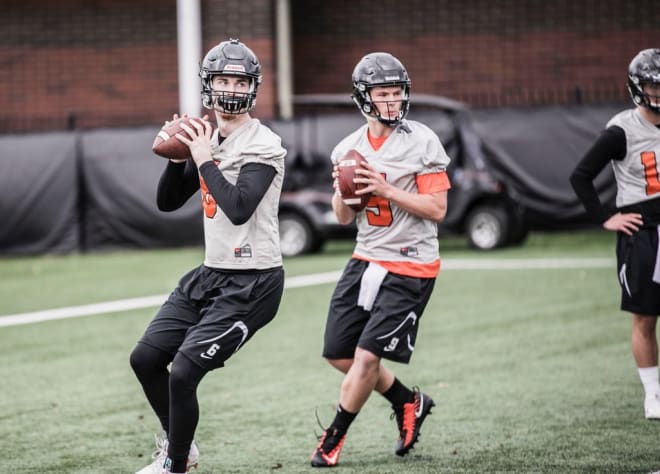 Running back
- The running back group looked like the best offensive position group today. Whether it was Calvin Tyler showing a burst of speed and juke moves, BJ Baylor running through linebackers, or Christian Wallace improving his hands and footwork, this group was a lot of fun to watch today.
- Baylor is a darkhorse in my mind. He has a really built upper-body and has the footspeed to make people miss before he bursts through the whole. He made several highlight type plays today and ran very very hard. After redshirting last season, it's very obvious Baylor is itching to get on the field.
- Last week I noted that it would be interesting to see how Christian Wallace would respond once the pads were on, and he didn't disappoint. He continued to run with purpose and excitement on the field. Wallace may not be a great running back at OSU, but seeing his love for the game by being back at a position he loves is certainly a treat.
Wide Receiver
- Another group that made headlines today was WR. Isaiah Hodgins and Arex Flemings were the standouts from this group today as they both made plays that were extremely impressive.
- Hodgins' route running is by far and away the best on the team based on what I've seen throughout the first week as he is just able to make a move and be off to the races. Granted, this is against OSU's younger corners in Kaleb Hayes, Isaiah Dunn and others, but still impressive nonetheless.
- Flemings looks like he could be in the mix for extensive playing time in the fall if he continues to play the way he has been. He's the shortest player on the team, but has extremely good lateral quickness and can make a jump cut like you couldn't believe.
- I really like what Kefense Hynson has done with this group so far. Their route running and hands have been on point in practice and the fundamentals have all been solid thus far.
Want to read the full practice report breaking down all position groups? Click here!