NUGGETS: Blount, Colletto, Luton continue QB competition
Today's practice was open to the media, and BeaversEdge.com has the very detailed report on how each position group looked following practice No. 12 of spring football. Don't miss the practice nuggets below!
Miss any content? Head over to the Spring Practice HQ Page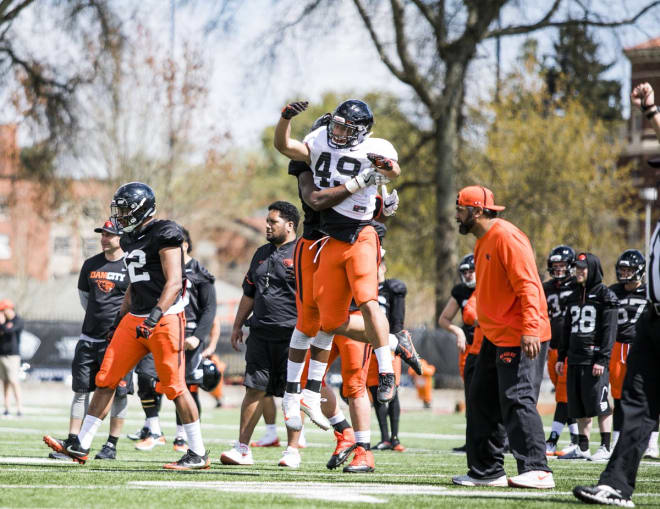 Starting with the defensive line...
- It was Isaac Hodgins who stole the spotlight on the defensive line today. I counted at least three would-be sacks on the quarterback and he was constantly fighting past the O-line to get in the face of the QB. His burst seems to be getting better as spring continues and he's looking better and better each time.
- Once again, Isaac Garcia provided consistent pressure up the middle to harass the QB. He had several instances where he broke through the O-line and had one would-be sack on the day.
- Kalani Vakameilalo was once again a factor on the line today, knocking down the ball on a high-reaching tip up and getting into the face of the QB.
- I noticed that both Chris Mengis and LaMone Williams were dressed but did not practice today.
Linebackers
- The linebackers were especially vocal on the sidelines today, encouraging the strong play of their teammates and the defense in general. They would cheer when the defense made a nice play and provide words of encouragement whenever a linebacker was involved.
- Today was a split tie between Shemar Smith and Kee Whetzel for the best performances. Smith was constantly providing fast pressure from his position and accounted for a sack. Whetzel was also harassing the QB whenever he could and was once able to stay with Luton behind the pocket to bring him down on an actual contact sack.
- Also looking impressive today was Andrej Hughes-Murray. He disrupted a few passes in open space and accounted for one sack on Colletto. He seems to have a natural football IQ and is another player who's improving as spring continues.
Defensive Backs
- Several of the defensive backs found themselves involved today while trying to cover the long ball. Kaleb Hayes had an excellent pass breakup in the end zone to disrupt a well-placed ball of 35 yards from Luton. Drew Kell stayed with a pass of 25 yards while covering his man to make a nice breakup. Deshon Wilson broke up a few passes while covering the long ball and stayed with whoever his man was throughout the entire practice.
- TraJon Cotton was the most involved he's been during spring today. He was used primarily as a biltzer on designed safety blitz plays and accounted for at least three sacks on a number of different QBs. It seemed he was wired in from the beginning and showcased his raw strength and speed to get to the QB. I was happy to see TraJon more involved today and think he could still be a special player in the Beavers secondary.
Want to read the full nugget report? Click here!