NFL Draft Profile: RB Artavis Pierce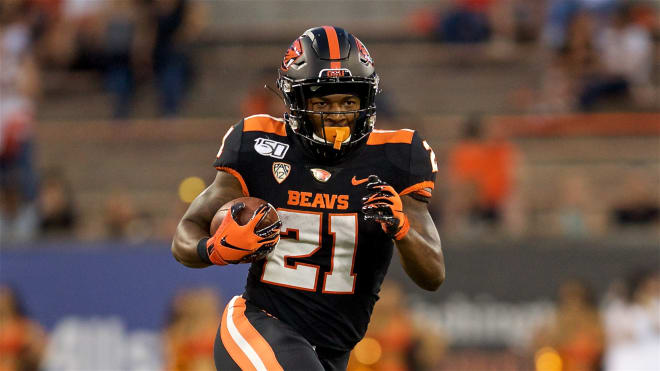 After a stellar four-year career at Oregon State that saw him play in 44 games (13 starts) and rack up 2,127 career rushing yards, 578 receiving yards, and 17 total touchdowns, Artavis Pierce will be looking to extend his football playing career to the next level. The NFL Draft is just over two weeks away and there's no question that there will be teams very interested in the dynamic dual-threat back.
He averaged an OSU school-record 5.8 yards per carry for his career and showed he's quite nimble and adept at finding creases and hitting them with speed. Another thing working in Pierce's favor is that he's almost tailor-made for what the position is trending towards in the NFL. More and more running backs are being asked to be the same type of receiving threat that they are running the ball and Pierce was really good at taking screen/dump-off passes and turning them into solid gains.
Beyond all the physicals, whichever team Pierce lands with will also be getting a tremendous young man. Pierce was one of the most humble guys on the squad, yet one of the most hungry and competitive, and that'll bode well for him as teams begin to narrow down their prospects.
Measurables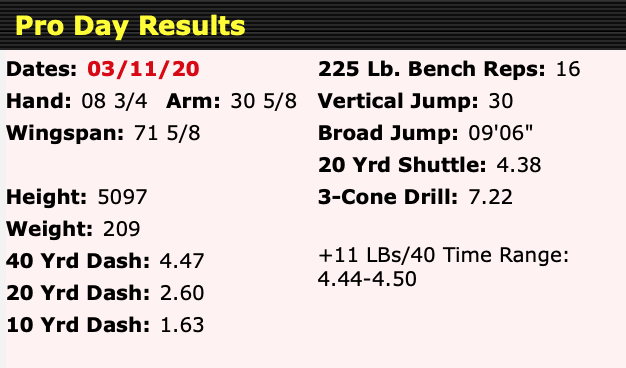 Highlights & Draft Analysis
Projected Draft Position - 4th or 5th round
While Pierce won't be one of the top running backs taken off the board, I imagine he'll land somewhere in the 4th or 5th round as a bit of a sleeper talent. Pierce boasts a lot of versatility as he's a dual-threat back with good pass-catching ability. In addition, let's not forget about Pierce's speed (4.47 40 yard dash) as he's more than capable of eluding defenders at the next level. He'll have to prove that he can handle the NFL workload and the punishment those defenders will bring on a weekly basis, but given his strong physique and attention to detail, I think he'll adjust well.
He'll be a steal for any team that drafts him and I've been saying for a while that he's a great comp to current Los Angeles Chargers running back Austin Ekeler. The two are nearly the same height/weight, have similar 40 times, and have running and receiving skill sets that are a hot commodity in today's NFL. No two players are the same, but I envision that Ekeler is the type of player that Pierce will likely have to be to succeed in the NFL. His skill set is more than translatable in today's offense-happy league that likes to put speed in space and that's why he'll land with a squad that sees him for the steal that he'll be.