Jermar Jefferson Delivers Oregon State & Jonathan Smith A Signature Win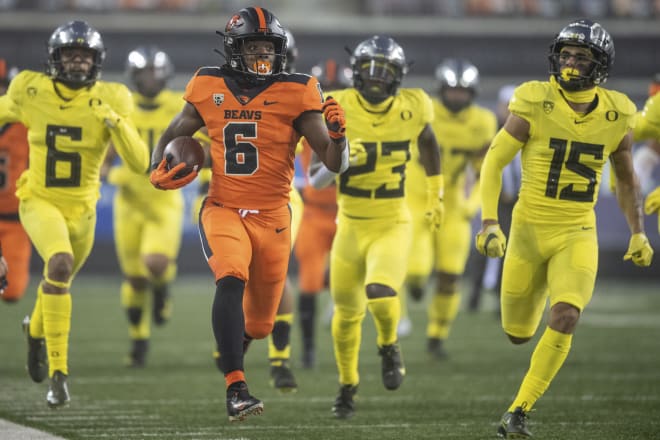 PROMO: Join BeaversEdge.com and get 30 DAYS FREE!
MORE: WATCH: Beavers Break Down Oregon Win | Highlights + Social Media Reaction
After fumbling away a chance for Oregon State to beat Oregon in Autzen Stadium a year ago, running back Jermar Jefferson was determined to make a name for himself and deliver No. 15 Oregon and the college football world a message on Friday night.
It's safe to say that message was sent in all caps, marked URGENT.
Jefferson ran wild against the Ducks in Reser Stadium and helped carry Oregon State (2-2) to its first win against No.15 Oregon (3-1) since 2016.
The 5-foot-10, 217-pounder broke just about every OSU-UO rivalry record there was to be broken for a running back as he ran for 226 yards and two touchdowns on 29 carries. His 82‐yard rushing touchdown in the first quarter marked the longest of his career and was the ninth‐longest in Oregon State history.
The previous record for a Beaver RB versus Oregon came by Ryan Nall in 2015 when he ran for 174 yards. Jefferson's 226 yards are the most ever by an Oregon State or Oregon player in the rivalry. He surpassed Jeremiah Johnson's (Oregon) 219 yards versus the Beavers in 2008.
In two different categories, Jefferson moved into fifth all-time in school history as his two scores give him 27 for his career, while his rushing performance gave him 2,740 total yards for his career.
"It means everything. We've lost to Oregon the past two years, and with last year, I really wanted to redeem myself," Jefferson said. "With the fumble from last year, I knew coming in this year that I really wanted to work hard. I was really ready for this game and didn't want to make any mistakes."
Heading into the final half of the season, one of the biggest elephants in the room is just how underrated Jefferson is on a national basis. Arguably, he's emerged as a dark-horse national award candidate as he has at least 120 rushing yards in all four games this season, with no other FBS player has an active streak longer than two such games.
"I really don't feel like I get much of the recognition I deserve. I just have to keep putting my head down and keep working hard. I've been underrated my entire life and I'm used to it."
He is the first OSU RB to rush for four consecutive 100‐yard games to start a season since Steven Jackson did it in five straight in 2003. That's an exclusive company as we all know as Jackson went on to the NFL Draft after his star-studded '03 campaign.
"We've got a special running back that makes a difference," head coach Jonathan Smith said. "He deserves recognition because he's a big-time back. Everybody sees it, and a lot of people say it. He's a guy we value in our locker room not just because of what he brings on Saturday's, but the way he goes about things and how hard he works. He deserves a lot of recognition."
2020 has been quite the year, and this season will never be forgotten for better or worse, so having Jefferson carry Smith and the Beavers to the most signature win under the current regime will live on in Oregon State lore for years to come.
It's Jefferson's world, and we're all living in it. Enjoy the ride folks...