Gifford: 'Visiting Oregon State was awesome'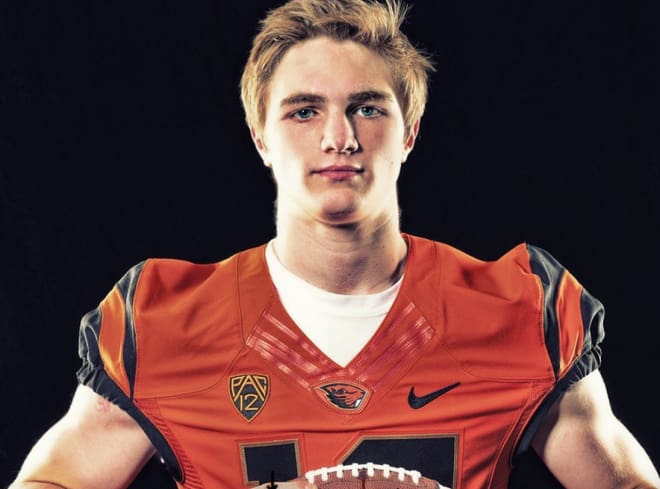 The state of Nebraska is not a fertile recruiting ground for the Oregon State Beavers, but when you have a connection to a certain prospect that you like, you go after the young man, no matter where he's located.
This is the case for OSU and class of 2020 Lincoln (Neb.) Southeast safety Isaac Gifford, who is the younger brother of Nebraska linebacker Luke Gifford.
"Coach [Trent] Bray was Luke's linebacker coach at Nebraska, and Luke reached out to coach Bray and asked him to watch my film," Gifford said. "So thanks to my brother, I got connected with coach bray."
Not only did Bray and Gifford get in contact, but the Beavers ended up becoming his first scholarship offer, coming back in January.
"I was really excited when I got offered," said Gifford. "It broke the ice. I didn't really think I would be getting an offer my sophomore year so I was pretty surprised."
Gifford made the trek west to check out Corvallis and Oregon State's spring game a week ago.
"Visiting Oregon State was awesome," he said. "Corvallis is a really cool town and the football facilities are brand new. To be honest, when I was walking around the players lounge and looking at the weight room, I was surprised how nice it was.
"Other than looking at all the facilities and watching the spring game, I was able to talk with some of the coaches, which was really good. The best part of the trip for me was trying on a jersey and checking out all the gear."

Another highlight of the trip was meeting a few of the Beavers' coaches.
"I talked a lot with coach Bray since he was the one to offer me and also some with coach [Jonathan] Smith, the head coach," Gifford said. "I also got to visit with coach [Greg] Burns, the defensive backs coach. I really enjoyed getting to talk to him cause he told me straight up how he coaches and how it would be if I played at Oregon State, and I really liked that.
"We also talked about how I would fit in the defense as a safety. I could tell that all the coaches cared about getting to know me and they showed a lot of interest in me which is huge to me."
Moving forward, Gifford doesn't have any additional visits planned but has received camp invites from the likes of Notre Dame, Stanford, Purdue, and Iowa State.