ANALYSIS: USC transfer and former #1 ATH Devon Williams picks Oregon State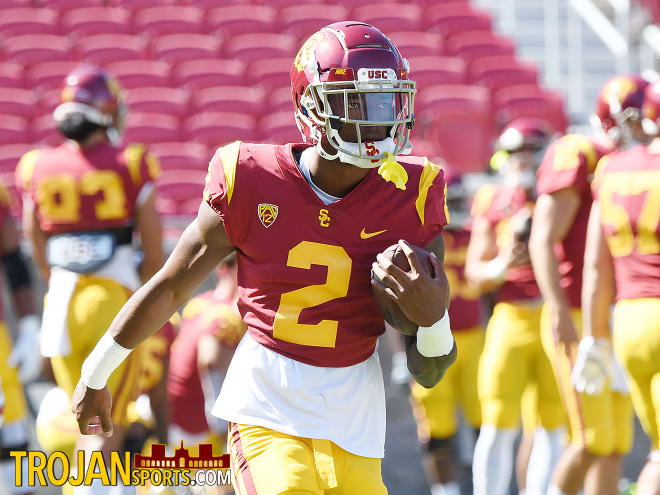 It was September 11th when USC wide receiver Devon Williams' name hit the NCAA transfer portal. Three days later he was in Corvallis for Oregon State's matchup against Cal Poly, and on Wednesday it became official that Williams would be a Beaver.
Williams, who was originally of the class of 2018, was a 6.0 four-star recruit according to Rivals, making him the number one athlete in the country and the number seven player in the talent-rich state of California. The Antelope Valley playmaker boasted offers from Alabama, Notre Dame, Florida State and others but ultimately chose to play at USC.

While playing for the Trojans, the six-foot-four, 210-pound receiver recorded five catches for 98 yards.

Williams will be eligible to play Oregon State's first game against Oklahoma State next season after sitting out for a full academic year in 2019-2020.
Williams' commitment is massive for Oregon State, and that goes without saying. Not only do the Beavers gain an incredibly talented receiver, but the addition speaks on the perception and current state of the program in year two under head coach Jonathan Smith. Williams was actively being recruited by both Oregon State and Oregon, but after a trip to Corvallis, Williams cancelled a same-day visit to see Oregon face off against Montana.
Williams' skills are quickly apparent on film, and he joins an already dangerous receiving core that consists of Isaiah Hodgins, Champ Flemings, Noah Togiai, Jesiah Irish and more.
Rivals analyst Adam Gorney shared his thoughts on Oregon State's addition of Williams.
"Picking up Williams is huge for Oregon State in so many ways. He was under five-star consideration in high school because he's a tremendous athlete and playmaker who could make an immediate impact. In that offense in Corvallis, he will be a major threat on the outside at all times."
— Adam Gorney